Earn gems and get more characters
Instigram.App is a mobile application for adolescents based on Positive Reinforcement and that focuses on personal strengths. This application aims to change the observer model of adolescents and their form of interrelation so that they integrate diversity in a natural way, avoiding talking about inclusion and simply talking about coexistence.
It is made up of positive affirmations that each adolescent attributes to one of their peers, achieving positive impacts that improve their self-esteem and help to build healthy relationships and facilitating learning contexts.
Every time someone answers a question about you, you will earn gems with which you can access a lot of prizes and upgrades for your characters.
Gems: Who would you go to the Moon with? Who dances best in your class? Earn gems by giving positive reinforcements to your companions.
Contests: Skill games, riddles, knowledge questions … The more contests you participate in, the more gems you will win.
Gifts: T-shirts, movie tickets, museums, theaters … exchange your gems for fantastic gifts to enjoy with whoever you want.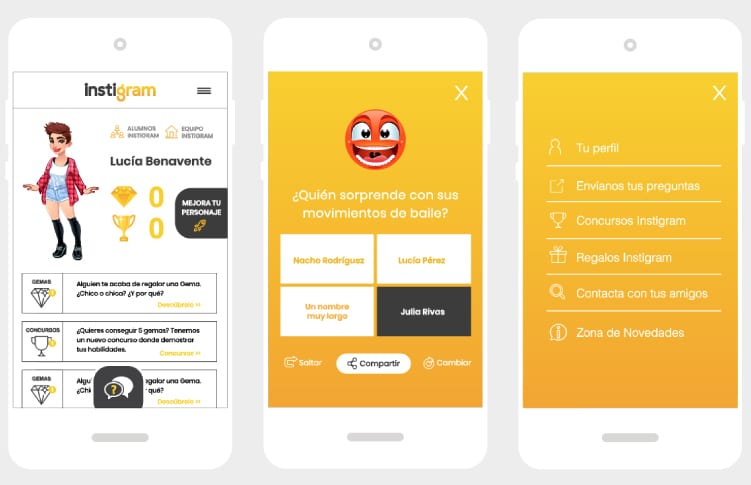 Instagramers? No, Instigramers
Who needs followers when you have real friends? Instigram is the only app that poses a positive reinforcement scenario between real friends.
No more "likes", "retweets", "influencers" and posturing … If you have friends, you are an Instigramer.